General information
Территорию усадьбы «Чырвоны капялюшык» можно смело назвать образцом нового типа усадебного мира, в котором природа, искусство, общение единомышленников, жизненный строй и духовная атмосфера сливались в некое единое целое, а архитектурная среда отнюдь не отступает на второй план - великолепное сочетание дерева и камня переносят отдыхающих в средневековую сказочную атмосферу.
Заслуживают внимания и экстерьеры со вкусом оформленных беседок усадьбы «Чырвоны капялюшык», отдых в которых течет по давно проложенному руслу, ничем не возмущаемый - и добрая традиция, и зов сердца.
Прекрасный, мирный, уединенный уголок, где есть все, что нужно!
Reservoirs
The farmstead «Chyrvony kapyalushyk» is located at 1500 m from Pripyat River. There is a stocked pond with an area of about 0,015 hectares on the territory of the farmstead.
Foundation year - 2010
The quantity of rooms - 32 beds.
Checkout time

Check-in at: 12:00
check-out at: 12:00
for every 24h

Children are accepted to live any age
Occupied territory - 0.50 he.
Territory security: territory is fenced
farmstead Chyrvony kapyalushyk is situated at the distance of: city Bobruisk - 163km ,city Gomel - 182km ,city Minsk - 270km
Geographical coordinates - 52°07.847' N, 28°30.526' E
The period of operation Chyrvony kapyalushyk
| Jan | Feb | Mar | Apr | May | Jun | Jul | Aug | Sep | Oct | Nov | Dec |
| --- | --- | --- | --- | --- | --- | --- | --- | --- | --- | --- | --- |
| | | | | | | | | | | | |
Location - farmstead Chyrvony kapyalushyk:

big guest house
floors: 2
Max people: 15

Watch the video
houses №1, 2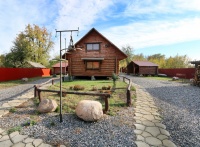 floors: 2
Max people: 7

Watch the video
house №3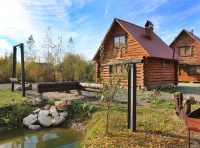 floors: 2
Max people: 3

Watch the video
Meals
Kitchen facilities
gas cooker
kettle
refrigerator
tableware
oven